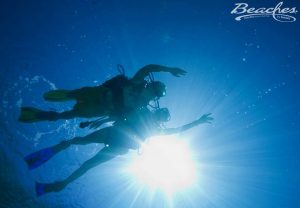 Last week I gave you an overview of this amazing resort, but there is so much more to tell you!! One of the things that sets Beaches resorts apart from other resorts is their water sports program. First of all, almost ALL of the water sports are included in the price of your Sandals and Beaches vacation! That is definitely different than other all-inclusive resorts, and can save you a lot of money, especially if you are interested in scuba diving!
Beaches Turks & Caicos offers so many water sports that you won't be able to try them all! We enjoyed quite a few of these fun things on our trip earlier this month. My daughters especially loved the kayaking and paddleboarding! And we all loved the Hobie Cat sail. Beaches Turks & Caicos* offers:
Snorkeling
Sailing
Windsurfing
Paddleboarding
Glass bottom boat rides
Aqua Cycle
Kayaking
Snuba**
Scuba Diving***
* Other resorts may offer different water sports.
**Snuba is offered at an additional cost.
**Scuba diving is included for certified divers only. Beaches does offer scuba classes and certification for an additional cost.
There is an amazing water sports department right on the beach. I really recommend that you head there and speak to them on your first day if you are interested in water sports, especially scuba diving. This is where you will sign up for scuba diving, snorkeling and glass bottom boat trips. You will also check out your water sports equipment here. This equipment includes things like snorkeling gear, kayaks, paddleboards, etc. And the amazing staff will give you instructions on how to use this gear too! They give lessons on things like wind surfing and paddleboarding so that you will be on your way, having fun very quickly.
Now I would like to focus on the scuba diving at Sandals and Beaches resorts, and Beaches Turks & Caicos specifically. Sandals and Beaches offer PADI scuba certifications, and there instructors are amazing!! All 3 of my daughters participated in the Discover Scuba class at the resort. Their instructors were so patient with them, and really took the time to teach them the technical aspects of scuba diving. You want to make sure that you are safe when diving, and I felt very comfortable leaving my girls in their care. And Sandals and Beaches resorts has been awarded as one of the top 5 PADI dive operations in the western hemisphere!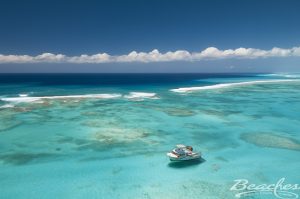 And as I said before, scuba diving is included in your Beaches vacation for certified divers! You can dive up to two times every day on your trip at NO extra cost! This is a huge savings, since a single dive can cost more than $150! My husband did dive almost every day, and loved it! He saw a ton of sharks, turtles and beautiful tropical fish! I didn't dive on this trip, but I will be back to enjoy it myself next time.
We also took a snorkeling trip while on our trip. This was probably my favorite snorkeling trip ever! As a scuba diver, sometimes I don't enjoy snorkeling as much as I could. I just want to strap a tank on and get close to the coral and fish! But I really enjoyed it this time! We saw tons of fish, a large nurse shark, and even a couple of squid! The Turks & Caicos offers some of the best snorkeling and dive sites in the world, and this did not disappoint!
I hope this gives you more information about the water sports at Beaches Turks & Caicos. This is definitely a huge part of this resort, and I encourage you to take advantage of at least some of the fabulous water sports that they offer!