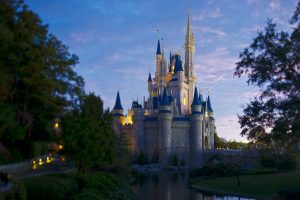 I often have clients ask me when the least crowded time to visit Walt Disney World. The short answer is that there is never a time when the parks are empty! With Disney World gaining more and more popularity each year, there will always be crowds to deal with on your next vacation. But with some planning and preparation, you can still do everything you want on your next visit to the most magical place on Earth!
Try some of these tips to beat the crowds on your next visit, to make your Disney vacation even more magical.
Avoid the park that has Extra Magic Hours. If you don't have the park hopper option on your ticket, then you may want to avoid the park that is offering Extra Magic Hours that day. Disney opens at least one park each day for Extra Magic Hours, one hour in the morning, or up to two hours in the evenings, for those guests staying at a Disney resort. Guests that want to take advantage of Extra Magic Hours but don't have the park hopper will stay at that park all day. So the parks that offer Extra Magic Hours are usually the most crowded park that day. To avoid the crowds, you may want to consider heading to another park.
Take advantage of the Extra Magic Hours. This may seem contradictory to my first statement, but you can use Extra Magic Hours to your advantage. You can really get a lot done in that extra hour or two. I love the early morning Extra Magic Hours for families with small children, who tend to wake up early anyway. And my teenagers love the evening Extra Magic Hours, when the younger guests are too tired to stay and ride. And if you have the park hopper option, I highly encourage you to use the Extra Magic Hours and then hop to a less crowded park. This can be a great time to ride that attraction that you weren't able to get a fastpass for! When I am planning an itinerary for my clients, I try to balance out their days. I definitely want them to be able to use the Extra Magic Hours, but I don't want them to be in with all of the crowds every day.
Choose your fastpasses carefully! There are some attractions that usually have very long lines, so you will want to make sure to get a fastpass for those if you can. But there are others that you honestly don't need a fastpass for. Especially during more crowded times like summer and the holidays, you can be standing in line for a long time if you don't have a fastpass for those most popular attractions. All of our clients working with a Wishes & Dreams Travel consultant will get recommendations for fastpasses customized to their family's wants and needs.
Plan your meals a little differently. The lines for some attractions are significantly lower during the typical meal times. So you may want to ride the Seven Dwarfs Mine Train at noon and then eat lunch at 2:00 pm. Or eat an early dinner at 5:00 pm and then head to Soarin' in Epcot. Or ride during the parades and fireworks shows, when most people are lining the main areas of the parks watching. You can also visit your favorite rides right after the park opens, or right when the park is about to close. On our last visit, we were able to basically walk right onto the new Na'vi River Journey in Animal Kingdom right before the park closed.
Visit the Magic Kingdom two days during your vacation. The Magic Kingdom is the park with the most attractions to enjoy. It's always tough for me to just choose three fastpasses for that park! And it can be very difficult to "do it all" in one day at the Magic Kingdom without exhausting everyone! To avoid those cranky children (and parents!), it's a great idea to take two days to enjoy the Magic Kingdom. This will allow you to choose a total of six fastpasses, and gives you more time to enjoy this park at a leisurely pace. I always recommend this trick to my clients if they have the time!
Try these tips on your next visit to Walt Disney World, and you will have the vacation of your dreams even during the busiest time of year!