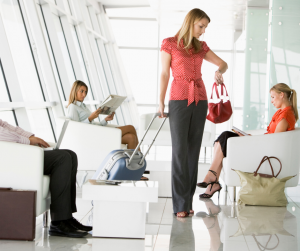 Many, many people travel during the holidays, but it can be a huge headache.  You want to spend time with your loved ones, but you don't want to have to deal with crowded highways and airports to get there.  No one wants that stress interfering with their holiday spirit!  Here are our top ten tips to help deal with the crowds.
Avoid traveling on peak days…save money and sanity.  Don't travel the day before Christmas Eve, and don't travel the day after New Year's.  If you can wait a day or two, you'll have far less crowds to deal with.
Print boarding passes at home…skip the line.  You can avoid the lines or even the kiosks at the airport by printing your boarding passes at home the day before you travel.  Or use the mobile app on your phone for boarding passes.  Anything to avoid waiting in the long lines at the airport is best!
Pack light…only bring a carry-on.  This one is tough for me, but if you can avoid checking a bag, you'll save lots of time.  You won't have to wait in line to check your bag, and you won't have to wait at the luggage carousel after you arrive at your destination.
Give gift cards…save room in your luggage.  Most older kids love gift cards anyway, so that they can shop and get exactly what they want.  Or use sites like Amazon to ship gifts directly to your destination.
Leave your car at home…take a Lyft or Uber to the airport.  The onsite and offsite parking at the airport can fill up quickly, and those daily charges can add up quickly!  And don't forget the stress of trying to find a spot for your car and get to the airport on time!  Take Uber or Lyft, or have a friend take you to the airport.
Leave early…traffic can be terrible.  If you're driving to your destination, give yourself plenty of extra time to account for all of the people on the roads.  And use an app like Waze or Google Maps to check the traffic.  You may want to take an alternative route if the highways are a mess!
Avoid booking tight connections…missing a flight is not an option.  I never advise connection times of less than an hour, but definitely not during the holidays!  I would recommend connection times of 90 minutes or longer during the holidays.  The last thing you want is to miss your connection and be stuck in the airport while your family is opening presents!
Prepare for delays…bring snacks and entertainment.  We all know that airport food is super expensive, so bring some of your favorite snacks to enjoy while you're waiting to board.  And don't forget things to keep the kids entertained!  No matter if you're traveling by car or plane, coloring books and crayons, crafts, books and video games can keep them busy and happy!
Be kind…a little kindness goes a long way.  Let someone merge ahead of you in traffic, tell that exhausted airport worker Happy Holidays, and tell your flight attendants thank you.  Your kindness doesn't cost a penny and will make someone's day!
Hire a travel consultant!  If you want to just enjoy your holidays without worrying about all of the details, then let your favorite travel consultant book your trip for you!  And don't forget us when you're thinking of all of your trips for 2020 too!