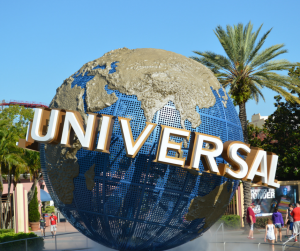 If your kids are getting a little bit older and love the thrill rides, if you're a Harry Potter fan, or if you like 3-D simulated rides, then it is time to plan a trip to Universal Studios Orlando!! These parks have some amazing thrills, and the Wizarding World of Harry Potter is out of this world! You really do feel like you are right in the middle of the Harry Potter books!
If you're used to planning a Disney vacation, then there are some things that are definitely different at Universal Studios. In this article, I have given you my top 5 tips to make the most out of your next Universal vacation:
Stay at one of the Universal resorts that offers the Unlimited Express Pass. There are 5 resorts on the Universal property (and this summer this 6th will open!), but only some of those resorts offer the Unlimited Express Pass as one of their perks. When you stay at Portofino Bay, Hard Rock or Royal Pacific resorts, you will receive the Unlimited Express Pass as an extra perk. This is sort of like an unlimited fastpass, and you can use it on almost any ride at Universal Studios! If you're not staying at one of these resorts, you can add the Unlimited Express Pass on to your tickets. Prices for this start at $69.99 per person per day, so staying at one of the Deluxe resorts is definitely the way to go!
Buy the park-to-park tickets! If you have been to Disney World in the past, I may or may not have recommended the park hopper ticket to you. There are times when you just don't need to add that extra cost onto your Disney vacation. But when you are visiting Universal Studios Orlando, the park-to-park ticket is a must! First, the two parks (Universal Studios and Islands of Adventure) are literally right next to each other, and it's just a short walk between them. Second, if you are a Harry Potter fan, then I'm sure you will want to ride the Hogwarts Express train! This attraction can only be ridden with the park-to-park ticket, since the train takes you between Universal Studios and Islands of Adventure. When riding this ride, the attendant will check your ticket to make sure you have a park-to-park ticket. If you don't have this option, you can upgrade your tickets at Hogwarts Express.
Take a day just to explore the Wizarding World of Harry Potter. There is actually a Wizarding World of Harry Potter in both parks (Universal Studios and Islands of Adventure). My advice is to take one day just to explore this area of the parks. You will see lots of people dressed in their wizarding robes, so be sure to pack yours and wear it proudly! And don't forget to visit Ollivanders to choose your wand (or let your wand choose you!). A bonus tip is to buy the interactive wand at Ollivanders. There are many nooks and crannies in both Harry Potter sections that you can use this interactive wand. You never know what will happen! And if you take one day just for the Harry Potter lands, then you won't have to worry about carrying your robe and wand on all of the other attractions in the parks.
Try the Butter Beer! In the Wizarding World of Harry Potter, you will have many chances to try Butter Beer. This is a non-alcoholic beverage that is served hot, cold or frozen. It is so yummy, and just one more way to feel like you are a part of the wizarding world. My favorite is the frozen!
Take at least one day, or better yet two, to enjoy the rest of the parks. There are so many thrill rides and shows to enjoy at Universal Studios, that you will need a day or two to do it all. I prefer three days for the perfect Universal vacation. And make sure to try all of the amazing roller coasters and 3-D attractions! My favorites are Revenge of the Mummy and Transformers!
These are just a few of the tips that will help you make the most of your next visit to Universal Studios Orlando.