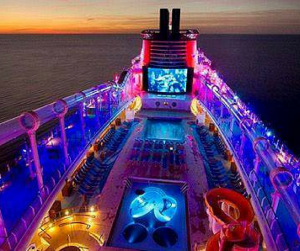 If you've never been on a Disney cruise ship, you're really missing out! This is a cruise experience truly like no other. Of course the kids will love all of the activities especially for them, but there is also plenty to do for the adults! The food is simply gourmet. I've never had a bad meal on a Disney cruise ship! And the shows!! The shows are absolutely my favorite part of a Disney cruise. It's like going to a Broadway show every single night! The sets and costumes are just beautiful!
You can make the most of your next Disney cruise with a few insider tips. Your Wishes & Dreams Travel Consultant has the expertise to make your cruise experience like none before. Below are just a few of the tips we will share with you for your next cruise. All you have to decide is when and where you will go!
Your stateroom attendant will provide you with a Personal Navigator each day. It lists every single activity for that day, character greeting locations, and hours of operation for everything. You might want to bring a highlighter. Extra copies are available at Guest Services. (You can also get this information on the Disney Cruise Line app on your smartphone. You use the ship's wi-fi for this app at no extra charge!)
Check the Personal Navigator or the Disney Cruise Line app for a schedule of Disney character appearances. You can also dial 7-PALS from your stateroom phone or check the message board in the Lobby Atrium for more details about Character Greetings.
Port days are a great time to take advantage of the ship's amenities such as the pools, spa AquaDuck and AquaDunk with minimal crowds. Most people leave the ship in the morning and return in the afternoon, which allows time to enjoy the ship when it's nearly empty.
Dine and play is available for ages 3-10 to help at the late dinner seating. When you arrive, inform your server that you would like your child to participate. Children will eat first and then program counselors will come and escort the kids to Oceaneer's Club and Oceaneer's Lab. Adults can then enjoy the full dining experience knowing their children are safe and having a wonderful time.
Disney Cruise Line offers first-run movies in the theaters on the ships! I always love not having to pay for a movie ticket or wait in line to see my favorite Disney movie! This is a great option if you happen to have bad weather one day too! The movie is complimentary, but they do sell popcorn and other snacks right outside the theater for an additional charge.
If you'd like to get even more tips, then let's start planning your next Disney cruise! Where will you cruise to? Disney ships sail to the Caribbean, Alaska, the Mediterranean and more! There truly is a perfect Disney cruise for everyone.