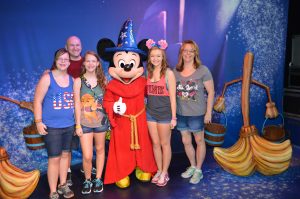 You've decided to take the family to Walt Disney World—great!  Now you have to decide when to go.  If you don't want to take the kids out of school, then you're basically going to decide between holidays and the summer.  Summer seems to be the best time for your family, but you're a little worried.  If you've ever visited Walt Disney World in the summer months, or Florida in general, you know it can be hot!  But you can plan an amazing vacation without completely melting by following a few tips.
Take things at a slower pace. If you are visiting Walt Disney World in the summertime, just realize that you may not be able to go-go-go like you're used to.  Take a break and watch a few shows or take advantage of some of the indoor attractions like Spaceship Earth or Buzz Lightyear's Space Ranger Spin. (Pirates of the Caribbean is my favorite ride when it's hot because you wait in line inside out of the heat!)
Take a break and head back to the pool at your resort.  This can help you cool off a bit, and then you can head back into the parks for your favorite nighttime show.  You'll have some time to relax, and everyone will be happier.  And the Disney resorts have some amazing pools!
Remember to keep yourself hydrated! This is important for all of your Disney vacations, but especially when you visit in the summer.  You don't want to ruin your trip with a visit to the emergency room, so make sure that you drink plenty of water.  And you can always get a FREE cup of water at any quick-service restaurant in the parks!
Don't forget to use sunscreen and re-apply often! You don't want to miss all of the fun because you have to stay in your room because you're too sunburned to go out again.  Take sunscreen with you into the parks, and make sure you apply it throughout the day.  And don't forget that you can still get sunburned if it's cloudy!
Visit one of Disney's amazing water parks! Both Typhoon Lagoon and Blizzard Beach can make for an amazing day at Walt Disney World.  Go splash around with the kids, or just spend some time in the lazy river.  Both of these water parks are a great way to beat the heat!
Find characters indoors. You can take a break and meet your favorite characters indoors.  Head to the Big Top in the Magic Kingdom, or inside Innovations in Epcot to get out of the heat and get some great pictures with characters.
Make reservations for your favorite character meal (or any sit-down restaurant). You may want to make reservations for your sit-down meal at lunch instead of dinner to get out of the heat.  And what better way to take a break then by eating a great meal and meeting characters like Mickey, your favorite princess or Winnie the Pooh?
Pack your bag for the parks wisely! Make sure you have some essential things to help keep you cool like:

Water bottles
Sunscreen
Mister or spray bottle
Fan (or combine these two with a mister fan!)
Cooling towel
Ponytail holders to put up long hair
Sunglasses
If you follow the tips above, you can survive the heat in Walt Disney World during the summer months.  Just prepare, pack well and have a fabulous vacation!