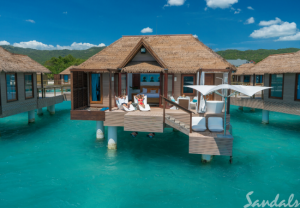 If you're looking for a relaxing, beautiful resort in Jamaica, you should definitely consider Sandals South Coast.  This is one of my favorite resorts in Jamaica!
This resort is on the southern coast of Jamaica, on a beautiful white sand beach.  This resort is set up into three authentic architecturally designed beach-front villages, the Italian Village, the Dutch Village and the French Village.  Each of the 372 rooms and suites is beach front in this resort!  Sandals South Coast also offers the one of a kind over-the-water butler bungalows.  No need to travel all the way to the South Pacific to enjoy over-the-water accommodations!
Sandals South Coast is about 75 minutes from the Sangster airport in Montego Bay, and the new road to this resort has recently been completed.  Now you will have a smooth ride all the way from the airport.  And don't forget that all transfers are complimentary to any Sandals and Beaches resort!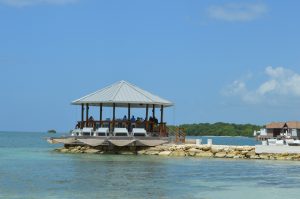 In addition to the over-the-water bungalows, this resort also offers an over-the-water wedding chapel for the ultimate luxury wedding.  There is also an over-the-water bar, Latitudes, which offers amazing sunset views!  I can personally tell you that this is a fabulous way to end your day!
There are 9 restaurants here, including the Jerk Shack for authentic Jamaican cuisine.  My favorites are Schooners and the Sushi on the Sand options!  You can also have room service when you stay in a Club Sandals or butler room.  And don't miss the Decadent Chocolate Buffet, which is served one night each week!  There are 7 bars to enjoy your favorite cocktail at Sandals South Coast.  I recommend trying a chocolate martini at the Casablanca Martini Bar!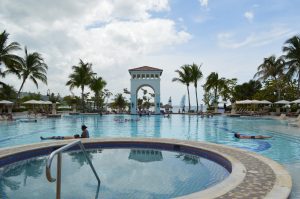 There are plenty of activities at this resort too!  Enjoy beach and pool volleyball, water-skiing, kayaking and more!  And don't forget that scuba diving is included for certified divers at any Sandals or Beaches resort.  There is also entertainment in the evenings, from the Caribbean Carnival Beach Party to Reggae Night.
Just like in any Sandals and Beaches resort, Sandals South Coast offers services at the amazing Red Lane Spa.  Whether you want to enjoy a couples massage, a facial or a mani-pedi, you will be pampered and well taken care of.  Other special occasion options include a private candlelight dinner on the beach or a special photo session to remember your scenic vacation.  And if you want to explore a little bit, just go and visit the Island Routes desk in the lobby.  Island Routes offers incredible excursions to help you see even more of Jamaica.
Now you know all of the facts about this resort, but is this the perfect Sandals resort for you?  Sandals South Coast has a very relaxed atmosphere, so it's perfect for someone that wants to get away from everyday life.  If you are looking for a big party scene, then there are other Sandals resorts I would recommend for you.  But if you want a fabulous beach, amazing food and the chance to get away and reconnect with your loved one, then you should definitely visit Sandals South Coast!
If you'd like to see even more photos of this beautiful resort, be sure to visit our Facebook page.  We have an album of photos from my own visit to Sandals South Coast.  And don't forget to enjoy a mojito at the Latitudes bar for me!