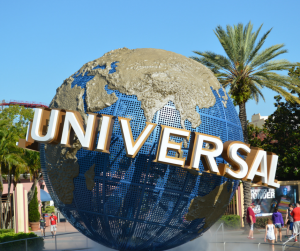 When visiting the three parks at Universal Studios Orlando, Universal Studios, Islands of Adventure and Volcano Bay, you will want to try some of the incredible restaurants there.  If you want to make it super convenient for you, then I would highly recommend adding Universal's quick service dining plan to your vacation.  On our last visit to Universal Studios in October 2019, we used this dining plan and loved it!
So what does the quick service dining plan include?  For each child (age 3-9) and adult (age 10 and up) the quick service dining plan gives you:
One quick service meal, consisting of an entrée and a non-alcoholic beverage
One snack
One non-alcoholic beverage
The cost for this plan per day is $25.55 per adult and $17.03 per child for 2019 and 2020.  This is an amazing price for all of this!  To see how amazing it is, if you had a meal at Leaky Cauldron in Diagon Alley (a must-do for all of you Harry Potter fans!), the fish and chips is $15.99 and a Gillywater is $5.50.  If you had a frozen Butterbeer for your snack, that would be $7.99.  And then when you add another beverage later in the day, that's an additional $3.29, for a total of $30.77.  So you would save $7.22 by using the dining plan, and you could save even more if you get the more expensive items on the menu!
Universals' quick service dining plan gives you so much flexibility too!  Unlike dining plans at other theme parks:
You don't have to purchase for everyone in your party. So if Johnny is super-picky and won't eat anything, don't get the dining plan for him.
You don't have to purchase the quick service dining plan for every day of your stay. If you only plan on visiting the parks for 3 days, just purchase the plan for 3 days.
You can also add on a Coca-Cola Freestyle Souvenir cup to any dining plan.  This gives you a souvenir cup that you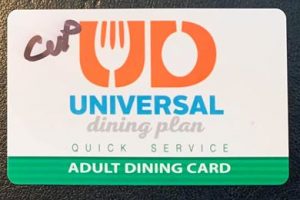 can refill at any Coca-Cola Freestyle machine in the parks.  This is really nice on a hot Florida day!  To purchase the quick service dining plan with the souvenir cup, it is $31.94 per day for an adult, and $24.32 per day for children age 3-9.  So for just over $6.00 a day you can enjoy unlimited Coca-Cola drinks!  There are about 10 machines in each of the two main Universal parks, so you won't have to travel far to enjoy a cold drink.
There are a few things to remember when using your Universal quick service dining plan:
Butter beer is considered a snack, not a beverage.
Theme park admission is required to use your dining plan in Universal Studios, Islands of Adventure and Volcano Bay.
The dining plans are not valid at dining locations at any of the Universal Studios resorts.
Your credits roll over if you don't use them all each day. For example, if you don't get a snack on day 1, you can use that credit any other time during your stay.
You will pick up your quick service dining card with your E-Travel docs at your Universal resort, at the Dining Reservation Cart at either theme park or at Universal CityWalk, or at the Guest Services desk at Universal Studios or Islands of Adventure.
If you purchase the Coca-Cola Freestyle cup, you will get your cup at any quick service restaurant that has a freestyle machine.
So if you want to limit the money you spend out of pocket while you're in the parks, try the quick service dining plan on your next visit to Universal.  It's a great value!  And don't forget that Coca-Cola Freestyle cup too!  Your Wishes & Dreams Travel Consultant can give you more information about this plan and help determine if it's right for your family!