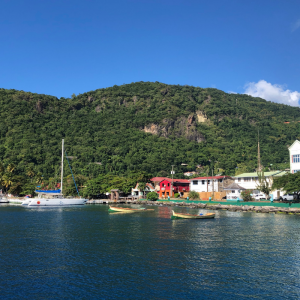 During our recent trip to St. Lucia, we also took some time to explore the island with an all-day excursion with Island Routes. If you're not familiar with Island Routes, this is the company that is paired with Sandals and Beaches resorts for excursions. You will see an Island Routes desk at every Sandals and Beaches resort, and we can also book your excursions before you travel to lock in availability. Some tours do book up, so it's best to book early.
We chose the Soufriere Adventure Cruise. This is a seven hour tour which included a lot of highlights of this beautiful island.
Tour Highlights
Sail on a catamaran to Soufriere while enjoying appetizers
Pass quaint fishing villages as you approach the Pitons
Tour Diamond Botanical Gardens before stopping for lunch
At the sulphur springs enjoy the mud baths or see the volcano
Snorkel over a protected reef before a visit to Marigot Bay
We took a short bus ride to the marina, where we boarded our ship for the day. We took a leisurely ride by the Pitons (wher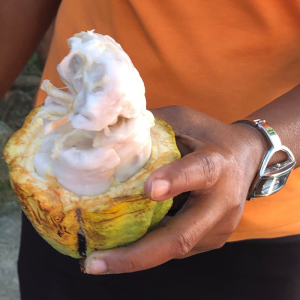 e I took a ton of photos!) before being escorted to the mud bath first. This is a short visit, where you first dip into warm waters before applying mud to yourself. So much fun to get dirty! And I swear that my skin was so much softer after! We then took a ride to the Botanical Gardens, where we learned all about cocoa manufacturing. This was so interesting to me. I had no idea that milk and dark chocolate actually comes from two different types of cocoa beans! After an authentic St. Lucian lunch, we boarded our boat again for a scenic trip to Marigot Bay. This is a beautiful cove! We were able to snorkel here, and saw lots of fish and even a small school of squid!
Island Routes offers many types of tours, from historical to adventurous. There is definitely something for everyone! From zip-lining and jeep tours in St. Lucia to a reggae catamaran cruise or a bobsled run in Jamaica, there are plenty of options to choose from! Island Routes is associated with Sandals and Beaches resorts, but they also have locations all over the Caribbean and Mexico. So wherever your next vacation takes you, Island Routes can help you truly explore your destination. I highly recommend this company to add that something special to your next vacation. As Island Routes says, it's time to "Live Funner"!