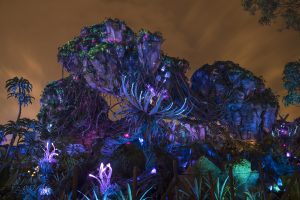 If you haven't made a trip to Disney World lately, now is the time to plan one!  Disney opened up Pandora – The World of Avatar in Animal Kingdom in May of this year. Pandora is the new land based on the movie Avatar.  So if you haven't seen that movie, you might want to watch it before visiting.  This land is visually stunning, and an adventure itself before you visit any attractions.  Make sure to take some time to just walk around and take it all in.  And after the sun sets, enjoy an alien world full of wonder with bio-luminescence all around you!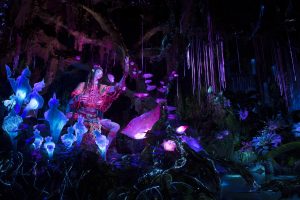 There are two new rides in Pandora.  Both of these are available to fastpass, but both are now Tier 1 fastpasses (similar to Test Track and Soarin' in Epcot).  So you will have to choose one attraction only for your early fastpass selection.  The Na'vi River Journey is an incredible boat experience that will take you deep into the world of Pandora.  The rainforest canopy glows with life as the Na'vi Shaman of Songs calls to you.  The other new attraction is the Avatar Flight of Passage.  I've been told that this attraction is a cross between Star Tours and Soarin'.  You will climb on the back of a banshee for an exhilarating 3-D ride through the wonders of Avatar.
Satu'li Canteen is the new quick service restaurant in Pandora.  They have breakfast, lunch and dinner offerings made to enhance your experience in Avatar.  Pongu Pongu offers snacks such as pineapple lumpia and glowing, frozen Pandoran beverages.