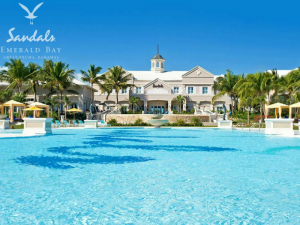 So you've made the decision to go to an all-inclusive resort. Great idea! This type of vacation can be super relaxing, and you don't have to worry about a thing once you arrive. The only thing you have to do now is to choose a resort. That's the tough part! If you go online, there are thousands of resorts to choose from. One of my favorite resort chains is the Sandals resorts. If you're looking for a romantic getaway for two, this is a great resort option for you. The resorts are amazing, the food is fabulous, and almost everything is included in the price–including things like airport transfers and all water sports, which can cost more at other resorts. If you're a scuba diver like me, you will love that Sandals offers unlimited diving for certified divers!
OK, the first decision is made; you've decided to go to a Sandals resort. But how do you choose which one? The great thing about these resorts is that they each have a different feel to them, so there is a perfect resort for everyone! Here are a few questions to ask to help make that decision.
Do you want a smaller resort that is more intimate, or a larger resort with more activity? If you want a smaller resort, look at Sandals Halcyon or Sandals Royal Caribbean. If you want a more active resort, then Sandals Ochi or Sandals Regency La Toc might a great choice.
Do you want a long beach to walk on, or would you prefer a smaller, more private cove? If you want a long beach, then look at Sandals Negril, Sandals Grande Antigua or Sandals Emerald Bay. If you want a more private beach, then Sandals La Source Grenada or Sandals South Coast would be perfect for you!
Do you want to be able to visit other Sandals resorts during your stay? Sandals Royal Plantation guests can visit Sandals Ochi, and you can visit any of the Sandals resorts in St. Lucia (Sandals Halcyon, Sandals Regency La Toc or Sandals Grande St. Lucian) during your stay.
Do you want to stay in an Over-the-Water Villa or Bungalow without having to travel for 24 hours to get to Tahiti or Bora Bora? Then you will definitely want to visit Sandals South Coast, Sandals Royal Caribbean or Sandals Grande St. Lucian for these magnificent accomodations!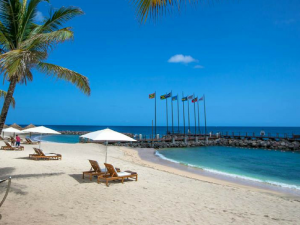 Even after making these decisions, it can still be difficult to know which Sandals resort would be the perfect choice. That's where I come in! I have had extensive training on all of the Sandals and Beaches properties, and have visited several myself. I would love to help you find the resort that is right for you!