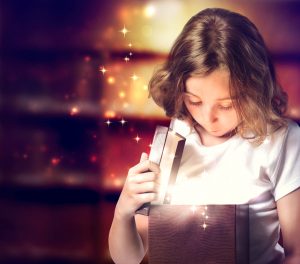 Some of you may be already done with your holiday shopping. Good for you! I'm one of those that is often out at the last-minute finishing everything up. I have found that it's tougher and tougher to buy for my kids as they get older. Of course I want to get them what they have on their wish list, but I also want to get them something that they need. And the most important thing I want is to spend time with them. I know that my time is short with them, and I want to make the most of it! So it's very tough to buy them the latest electronic device and then have them stay up in their room all day online. Do you have these same issues with your kids? I sometimes wish that I could go back to the days that Santa brought them Barbies and baby dolls!
If you want the gift of time with your children, then why not get them the gift of memories instead of that newest phone? Can't you just imagine seeing the look on your child's face the first time they see Mickey, or when they are amazed at the ocean, or swim with dolphins or stingrays on your cruise excursion.  I guarantee that they will have those memories long after they forget what they got under tree!
If this sounds like a great idea to you, let your Wishes & Dreams Travel Consultant help you plan the trip of a lifetime for your family. It doesn't have to be a trip over the holidays, when the crowds and prices can be overwhelming. We can help you plan a special present to put under the tree to let them know about the adventure you are going to take as a family.  And then you'll have the excitement when they open up their present and the anticipation until you actually go on the trip!