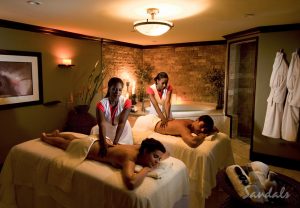 If you can get the chance to go away for a long weekend without the kids, then I suggest you go and go quickly!! It really is so important to have some time to yourselves and reconnect as a couple. Everyone is so busy these days with work and the house, and the kids have a thousand activities that they're involved in! You spend all of your time running around, and you can really lose yourself. I promise that you will be a better parent and definitely a better spouse if you can get away. Your stress levels will undeniably decrease with a romantic get-away. And I know we can all use less stress in our lives!!
My husband and I have been so fortunate to be able to get away for long weekends a few times. It can be challenging to find something for only 3 or 4 days, but that is what your travel consultant is for! Here are my top 5 ideas for planning your next get-away.
A 3 or 4 night cruise. All of the major cruise lines offer 3 or 4 night cruises. These cruises typically sail out of Florida, and go to a port in the Bahamas. But the port is not as important as just getting away and relaxing. Enjoy your time on the ship, have some amazing dinners with your spouse, and see a few great shows too!
An all-inclusive vacation. There are many all-inclusive resorts that are a short plane ride away! We can give you recommendations in the Bahamas, Jamaica or Mexico that would be a great fit for you! One of my favorites in the Bahamas is Sandals Emerald Bay, which even includes golf! Or try one of the Couples resorts in Jamaica for a quiet weekend just for the two of you. And don't forget your couples massage to really reconnect!
An adventure trip. If sitting on the beach is not your cup of tea, then let's plan an adventure! Try white-water rafting, or hiking the mountains of Colorado! Or head out to one of our amazing national parks and explore! I love seeing the bison in Yellowstone or the amazing redwoods and waterfalls in Yosemite.
 Visit a new city. My husband is a runner, and he is trying to run a marathon in all 50 states. I try to go with him if he's going to a new city, and we get to explore! We have had some amazing weekends in Seattle, New Orleans, Bar Harbor, Chicago and more! Find a great airfare deal and go somewhere you've never been before. You'll have a great time exploring museums and trying out the local food. There are so many options to discover!
Rediscover your own city! If your budget is a bit tight, then you can rediscover your own city! Stay in a fabulous hotel right in downtown, and go to all of the places you never get to anymore. I live right outside of Atlanta, GA, and there are many places right here that we just never go to anymore. Revisit local museums or play tourist at your local attractions! You will have a ball and won't spend a lot of money!
I hope this gives you a few ideas to start planning your next adults-only getaway! There are so many more options that it was tough to narrow it down to just five! Call the grandparents today to see if your kids can spend the weekend with them, or trade weekends with your sister or a friend in the neighborhood. You'll know that your kids are being well taken care of, and they will love to see the new, relaxed mom and dad when you return. Just don't forget to bring them a T-shirt!!