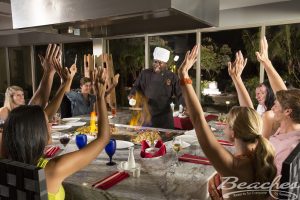 One of my favorite parts of an all-inclusive vacation is the amazing dining that the resorts offer. I have been in a beautiful resort, but if the dining was just so-so, or if there weren't many options to choose from, it affects the vacation experience. With Beaches Turks & Caicos, you definitely don't have to worry about that! This resort offers many different dining options, so you will be sure to find something that you love!
Here is a list of all of the restaurants that you can enjoy on your next visit to Beaches Turks & Caicos:
Courtyard Bistro -great for a quick lunch with amazing views.
Bombay Club – authentic Indian cuisine with intriguing, flavorful dishes.
Marios Italian Cuisine – amazing Italian cuisine! Try the mushroom risotto or the pasta Carbonara!
Reflections Restaurant – international and local buffet. We ate here several times for breakfast, and it was delicious!
Kimonos Oriental Cuisine – Hibachi style dinner with such fun entertainment! We all loved this restaurant! This is the only restaurant at Beaches that requires a reservation.
Arizona's Tex-Mex Cooking – southwestern flair served with amazing views of the sea! The Ceviche was my favorite!
Schooners Seafood Grill – probably our favorite restaurant at Beaches. Amazing seafood in a beautiful setting with beautiful sunset views! The seared Ahi tuna was fabulous!!
Sapadillas Caribbean Cuisine – this is an adult-only restaurant featuring exotic and adventurous fare. Try this for a romantic dinner.
Guiseppe's Italian Restaurant – a wonderful buffet including a pasta bar (which my teens loved!). This restaurant had the best breakfast at the resort!
Bobby Dee's – amazing burgers right next to the water park! And don't forget to add an order of onion rings–those were my favorite! Bobby Dee's is also open for a late-night snack or an ice cream sundae before bed.
La Petit Chateau – Parisian-inspired cuisine in elegant decor. Unfortunately we didn't make it to this restaurant, but the menu looked fabulous! Just have to plan another trip!
Cafe de Paris – a Parisian-style patisserie with great specialty coffee drinks! We loved this restaurant for a quick sweet snack of tarts and petit fours in the afternoon.
Bella Napoli Pizzeria – satisfy your pizza cravings for lunch!
Barefoot by the Sea – another fabulous option for seafood, and a great place to put your toes in the sand! We had lunch and dinner here, and both meals did not disappoint! I also love the little tables that were the perfect size for your tots! So cute!
The Cricketers Pub – traditional English pub right in the Caribbean! This restaurant has the largest selection of specialty beers, but also great food! And this is the location for a lot of the evening activities. We enjoyed karaoke (but didn't subject people to my singing!).
Dino's Pizzeria Italiana – great for a quick lunch by the pool. This restaurant offers pizza and panini's. The pizzas were delicous!!
Soy Sushi Bar – tons of options for sushi, that we loved! We dined here on our last night, and we were the last ones in the restaurant! We loved it so much we didn't want to leave!!
Bayside Restaurant – an open-air eatery with views of the pool and sea beyond. This was the other restaurant that we didn't have a chance to visit.
Sky Restaurant – the other adult-only restaurant (for dinner) that is above the Reflections restaurant, so you have amazing views of Grace Bay!! We absolutely loved the scallops here!
Neptune's Mediterranean Seafood – if you love seafood, then Neptune's should be on your list! This restaurant gives you seafood with a Mediterranean flair, and is also right on the beach for beautiful views.
the Jerk Shack – gives you an authentic Jamaican Jerk experience. Great option for lunch!
Mr. Mac Food Truck – delicious mac 'n cheese offerings right near the water park, so it's perfect for a quick lunch. We loved the crab mac 'n cheese!
Curls 'n Swirls Food Truck – when you're finished with your mac 'n cheese lunch, head over the Curls 'n Swirls for dessert! My girls loved their ice cream!
If you're counting, we've talked about 23 dining options. But I told you there were 24, right? The last option for dining is room service. Only rooms that have butler service will be able to have room service, but this is a great option for an early breakfast for the kids, or a late-night snack.
You can see that it is almost impossible to try every restaurant at Beaches Turks & Caicos, but it sure is fun to try!! And one last thing I wanted to talk about is dietary restrictions. If someone in your party has food allergies or dietary restrictions, then Beaches is definitely the resort for you! The culinary staff will address your dietary needs before you travel and while you are at the resort so you won't have a worry in the world! Just relax and enjoy!