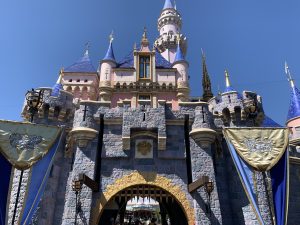 On my visit to the D23 conference in August of this year, I was fortunate enough to be able to go to one of the panels I was looking forward to the most—the Disney parks panel!  As I told you in the last newsletter, this was the presentation on all of the new things coming to all of the Disney parks around the world!  I wanted to go into more detail about this panel, and let you know all of the new amazing things that will make you want to visit your favorite Disney parks again, or maybe all of the parks!
I can't believe all of the new attractions, restaurants, etc. that are coming to Disney!  There are really too many things to put into one article, so I have broken it up into two different blogs.  The information below is for Disneyland, Shanghai Disney, Hong Kong Disney and Disneyland Paris.  Next week I will give you updates on the Disney Cruise Line and Walt Disney World.  It's a ton of information, so let's get started!
Disneyland
A new evening parade named "Magic Happens" will be coming to Disneyland in the spring of 2020. This parade will feature some of your favorite characters from Moana, Coco, Sleeping Beauty and more.  There is a beautiful new song to go with the parade by Todrick Hall.
The Runaway Railroad will be built in Toon Town. This attraction will be the same as the Runaway Railroad already announced in Hollywood Studios in Walt Disney World.  It will be coming to Disneyland in 2022.  We got the first look at the Toon Town exterior and the updated Chinese Theater, where these new attractions will be housed.
Shanghai Disney
A new Zootopia land will be coming to Shanghai Disney. No release date was given for this new land.
Hong Kong Disneyland
It was announced that they are expanding the castle at Hong Kong Disneyland. Instead of being based on only one story, like at Disneyland and Walt Disney World, the expansion will allow the castle to have parts from thirteen different Disney heroines!  The new castle will be called the "Castle of Magical Dreams".
The castle will become the backdrop for new day and nighttime shows as well.
A new "Frozen" area is also coming! There will be two new attractions, including a one-of-a-kind coaster called Wandering Oaken's Sliding Sleighs that will take you through Arendelle.  This land will also include the Frozen Ever After ride you may have enjoyed in Epcot in Walt Disney World.
Disneyland Paris and Disneyland
The Avengers Campus Global Initiative means that you can experience the Avengers not only in Hong Kong Disneyland, but soon at the Walt Disney Studios park in Paris and Disney California Adventure Park in California! These new areas will be a must-see for all of you Avengers fans!  This new land is set up by the Avengers to recruit the next generation of superheroes.  Will you be selected?
The main draw on this campus in Disney California Adventures will be the Worldwide Engineering Brigade—also known as "WEB"—which will contain the new Spider-Man attraction. Here you will learn to sling webs just like Spider-Man and help Spider-Man collect Spider-bots that have gone astray.
The Avengers Campus will also have the Pym Test Kitchen. This new eatery will use the latest innovations to grow and shrink food for you to enjoy!
The Avengers Headquarters will open in California in phase two and will house a brand-new E-ticket attraction where you will fly to Wakanda in a Quinjet. You will team up with your favorite Avengers in a battle to save the world, and you will be in the middle of all the action!
You will find your favorite Avengers characters all throughout the campus, including getting to meet Ant-Man and Wasp, Doctor Strange, Super Heroes from Wakanda, Guardians of the Galaxy and more!
There will also be some amazing things coming to Disneyland Paris, but we'll have to wait a bit longer for details on that part of the Avengers Campus.
Remember to check back soon to learn about all of the amazing things coming to the Disney Cruise Line and Walt Disney World!