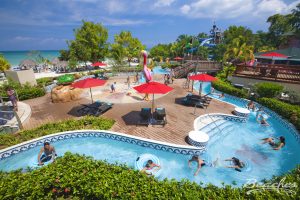 There are three Beaches resorts; two in Jamaica and one in the Turks & Caicos.  I visited the Turks & Caicos location with my family a few years ago, and last month I was fortunate enough to be invited to explore Beaches Negril.  My husband and I enjoyed this beautiful resort so much, and so will you!
Beaches Negril is located on the widest stretch of Negril's Seven Mile beach.  This beach has amazing white sands, and I'll bet that you will want to spend most of your time there.  And with the many water sports that are included in your Beaches vacation, you'll have plenty to do.  And you'll find some of the most amazing sunsets in the world at Beaches Negril!
There are 185 rooms and suites here, with accommodations to fit every type of family, from a 3-bedroom suite that sleeps up to 12, and rooms that can connect, this resort is perfect for larger families or families traveling with the grandparents.  This resort has been fully renovated recently.  The last of the renovations were completed in October 2019, and the rooms are beautiful!  Beaches Negril offers three levels of service, from luxury to concierge to butler accommodations with the ultimate in luxury and service.
There are 11 dining locations at Beaches Negril, so you will definitely find something that everyone will love!  From Café de Paris with mouth-watering pastries to the Venetian for fabulous Italian fare, the food here is just delicious!  One of my favorites was Soy, Beaches sushi restaurant.  And don't forget Kimono's for Japanese Teppanyaki dining with your chef preparing your meal right in front of you!  And I guarantee that your kids will love YoYo's Frozen Yogurt Bar!  I confess that I visited there more than once on our visit!  Tell your kids to pile on the toppings of their favorite yogurt flavor, because it's all included!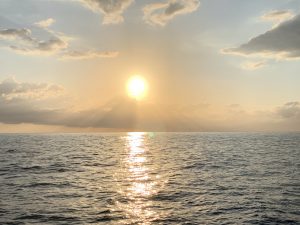 Beaches Negril offers nightly entertainment for your enjoyment.  Most nights start off with a show especially for the little ones with your favorite Sesame Street characters.  After that there is an array of entertainment throughout your stay, from live music, family shows, karaoke and more!
Speaking of your little ones, they will absolutely love the kids' camp!  Open from 9 am to 9 pm daily, the Kids' Camp features a wide range of activities for your kids to enjoy.  I suspect that you'll have a hard time getting them to leave!  There are events planned throughout the day for children from newborns up to 17 years old.
And everyone in the family will enjoy the Pirates Island Water Park.  This 3962 sq. ft waterpark features two slides that are each 204 ft long, smaller slides for younger kids, a splash deck, pirate bucket drops and a 92 ft meandering lazy river.  There is something for everyone here!
I mentioned the water sports before, and Beaches Negril definitely has activities for everyone to enjoy.  There is everything from kayaks, aqua cycles, windsurfing, paddleboards, water-skiing, knee boarding and more!  And don't forget that daily snorkel and scuba trips are also included in your Beaches vacation (scuba included at no extra cost for certified divers only).  My husband was able to dive twice during our trip, and he loved it!
As you can see, Beaches Negril is the perfect family vacation spot for your next trip.  This is the perfect spot to get away from your busy lives and enjoy time relaxing with your kids.  They grow up before you know it, so take some time to make those memories with them that will last a lifetime!