Contact Us For A Free Consultation!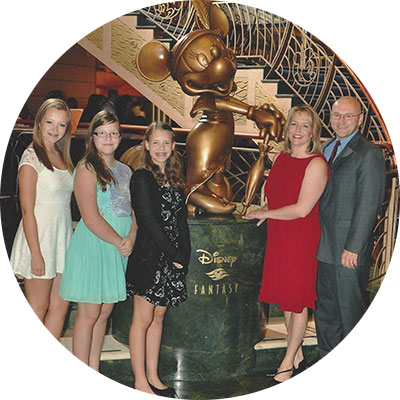 Book Your Travel With Amy Kirby
Hi! My name is Amy Kirby and I live in Kennesaw, Georgia with my husband and three girls, including a set of twins. I am a lover of all things Disney, and have experienced Disney World, Disneyland, the Disney Cruise Line, Disneyland Paris, and Aulani, Disney's resort in Hawaii. But the beach is my happy place. One of my favorite ways to vacation is at an all-inclusive resort, where everything is taken care of for you. You'll find me in a beach chair with a good book!
I have travelled with my family all over the world, including the US, the Caribbean, Mexico and Europe. I truly believe that the experiences that we have had bring us closer as a family, and given us all wonderful memories. That is the reason that I created Wishes & Dreams Travel. Nothing makes me happier than to help you enjoy your family to the fullest. I will create a VIP vacation plan that is completely customized to your wants and needs so that you can relax and enjoy your family, knowing that all of the details are taken care of. My goal is to help you bring your family together, to make memories to last a lifetime.
Amy Kirby, Owner & Travel Consultant
678.242.9655
"Amy made planning our Disney Cruise so easy! She had so much valuable information and tips that she shared with me. Everything was planned exactly how we discussed. She answered all of my questions (and I had a lot of them), plus helped me plan for things that I had not even thought of. I will definitely be booking our next Disney trip through her! Thank you Amy!!" - Jessica Bailey
Let Amy at Wishes & Dreams Travel plan your dream vacation!