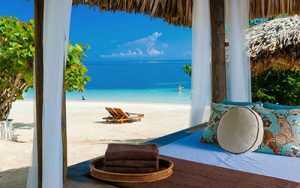 You may have heard me say before, if you google all-inclusive resorts, you will get over 219 million results!!  Needless to say it can be VERY overwhelming trying to decide where to go.  Your Wishes & Dreams Travel Consultant has a lot of training and experience to help you find the perfect resort for your family, but we wanted to share a few do's and don'ts to think of when selecting your next all-inclusive resort.
DO: some research when deciding on a resort.  You'll need to decide a few things before choosing a resort, like if you want an adult-only resort, if you're looking for a quieter resort or more of a party scene, if you want a great beach or a great pool, etc.

DON'T: pay attention to every review you read!  We've all seen resort reviews that make us think that we would NEVER stay at that resort!  Just remember that more people will post a review to complain about a resort than those that absolutely loved it.  And honestly there are some people that are just never happy!  So just look to see if a resort gets mostly good reviews, and you will probably love it!

DO: Purchase travel insurance every time you travel, especially outside of the US.  Remember that travel insurance covers things like flight delays, lost luggage, and injury or illness while you're on vacation.

DON'T: Think you don't need insurance if you're not traveling during hurricane season.  You especially need travel insurance during hurricane season, but don't forget about flight delays because of winter weather, just slipping a breaking an ankle, etc. that you just don't think will happen to you while you're on vacation.  If you spend thousands of dollars for the vacation, spend a few hundred more to protect your investment.

DO: Check out the restaurant situation at your resort.  Some restaurants require reservations and some restaurants may have a dress code.  Make sure to pack at least one pair of dress pants for the men in your family that are traveling with you.  Ladies, we have it a little easier, but make sure you have something nice to wear too.

DON'T: forget your insulated cup to keep your drinks cold.  If you're like me, your frozen drinks always melt before you finish them.  Or your beer gets warm, and that's the worst!  Bring an insulated cup with you to your resort.  You can give that directly to the staff at the bars, and they will fill you up!  And they will even wash it out for you.  And don't forget, if you book with Wishes & Dreams Travel, you will receive cups as our thank you gift!

DO: Venture off the resorts during your stay.  You may think of all-inclusive resorts as just a place to sit on the beach enjoying a good cocktail.  But I encourage you to explore the area you are visiting too!  There are so many amazing experiences you can have if you head out to discover something new.  I would encourage you to only leave the resort with a guided tour for your safety.

DON'T: wait until you get to your resort to book your excursions.  Some of the more popular excursions can sell out before you arrive, so if there's something that you really want to try, make sure to reserve it before you arrive.  Your Wishes & Dreams Travel Consultant can take care of those reservations for you, so you won't miss a thing!

DO: bring a bathing suit in your carry-on bags.  You may arrive at your resort well before your check-in time, which is usually around 3:00 pm.  If you have a bathing suit in your carry-on bag, you can begin enjoying the beach and pool right away!  This is especially necessary if you're traveling in the winter months.  You don't want to be miserable in your cold weather clothes until you can get into your room to change!

DON'T: forget your sunscreen!  Make sure to bring plenty of sunscreen with you.  Remember that the Caribbean sun is stronger than what we are used to in the states, and you will get sunburned if you don't use sunscreen!  The resorts do sell sunscreen in their gift shops, but you will pay a premium price for it.  So make sure you have enough for your entire stay.
With these tips and the expertise of your Wishes & Dreams Travel Consultant you can pick the perfect all-inclusive resort for your next vacation.  Now let's start planning!