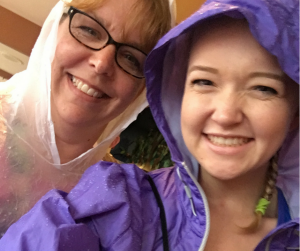 The weather doesn't always cooperate on your vacations. Since Walt Disney World is in Florida, you will get some rain showers there, especially in the summer months. It's usually a quick shower, so it's not enough to ruin your day. But there are two ways to handle a rainy day in Disney.  You can either head back to your resort, or brave the raindrops and still have fun!
I always say that a rainy day in Walt Disney World is better than a sunny day almost anywhere else! You can either let a little rain (or sometimes a lot!) ruin your entire day, or you can put on your poncho and enjoy! The rain usually doesn't last that long, especially during the summer. But you may experience heavier rains, or even hurricane conditions. After all, you are in Florida! Since Orlando is located in the middle of the state, the hurricanes rarely affect the weather there, but it can happen. Hurricane Irma did hit Orlando in the fall of 2017, and even closed down the parks for a few days, just to keep everyone safe. Since those kinds of conditions are rare, the weather doesn't have to ruin your day.
So how do you make the best of a rainy day in Disney? Here are a few tips to help:
Be sure to pack a poncho or rain coat. If you forget yours, there are Disney ponchos for sale in all of the gift shops in the parks. Just remember to bring it for your next trip, so you won't have to buy another one!
Bring an extra pair of socks to the parks. There's nothing worse than walking around in soaking wet socks, so be sure to bring an extra pair to change into if yours get wet. And remember to bring a plastic bag to put your wet socks in!
Take advantage of the shorter lines! When it rains, some guests (especially those with smaller children) will either head into the shops to get out of the rain or may even head back to their resort to wait out the storm. Use this time to ride your favorite attractions with much shorter waits! You should realize that some attractions will close if there is lightning in the area, but if not, the lines will be shorter!
Ride an indoor attraction! On a recent trip with my daughter, it started pouring in the Magic Kingdom. We just ducked into Mickey's Philharmagic and enjoyed the show. There are tons of shows or rides that are indoors, so choose one and go!
Go meet some characters! Some of the character meet and greet locations are indoors, so head inside and get some pictures and autographs. Head to Pete's Silly Sideshow in the Magic Kingdom, or the Character Spot in Epcot to meet some of your favorites
Get a great spot for the parades and fireworks! One of my favorite times watching the afternoon parade in the Magic Kingdom was right after a rain storm. We got a great spot right on Main Street and had a great view! Again, if there is lightning in the area the parades or fireworks may be delayed, so just be patient.
Get your shopping done. If there is lightning, or the rain is just too heavy for you, then take this time to enjoy the gift shops. Buy your favorite souvenirs, and remember that you can have them sent to your Disney resort so that you don't have to carry around packages in bad weather.
Splash around and enjoy! Don't let getting a little bit wet ruin your day!! Remember a rainy day in Walt Disney World is better than a sunny day at work!