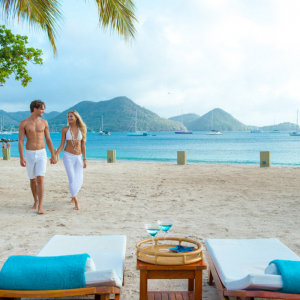 If you haven't visited St. Lucia before, I highly recommend that you put it on your travel list. This is one of the most beautiful islands that I have visited. The greenery seemed greener, the water was so blue, and the Pitons were a sight to see! The Pitons are two distinct mountains that St. Lucia is known for. We were able to see them on our excursion with Island Routes. I will give you all of the details about our fun day next week!
Sandals Grande St. Lucian is one of three Sandals resorts in St. Lucia. The other resorts are Regency La Toc and Halcyon. When you stay at any one of these beautiful resorts you have access to all three! There are shuttles scheduled throughout the day to take you to the different resorts for activities or dining, or just to hang out at the pool or on the beach. Today I want to focus on the Grande resort, since this is the resort that we stayed at. We did visit the Regency La Toc for a bit, but we didn't make it to Halcyon on this trip. Oh well, I guess that's just a reason to visit again!
Sandals Grande St. Lucian is a 17 acre resort with 302 rooms. This resort sits on a peninsula, which offers ocean views on both sides of the resort. One side of the resort has views of the Atlantic Ocean, and the other side has views of the Caribbean Sea. It's important to note that the beach is on the Caribbean Sea side, while the views of the Atlantic Ocean are actually across the street from the resort. So if you want to be close to the beach, it's important to book a beach view room, not just an ocean view room.
There are a few things that make Sandals Grande St. Lucian a unique resort. One is the over-the-water bungalows that this resort offers. I was lucky enough to be able to tour one of these amazing rooms. These rooms offer the ultimate in luxury including things like a butler to cater to your every need, exclusive private transfers and check-in, and upgraded amenities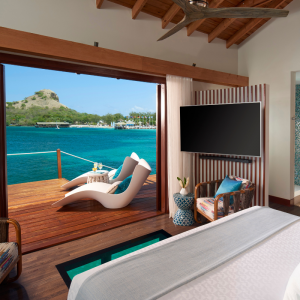 in your bungalow. This resort also offers an over-the-water chapel to make your wedding extra special. The aisle is see-though to the Caribbean Sea below, which is really something to see! If you're thinking of a wedding in this chapel, you should know that there is an additional fee to get married there. If you're a snorkeling or diving enthusiast, then I definitely recommend Sandals Grande when visiting St. Lucia. This resort has water sports directly from the resort, instead of having to travel to a marina from La Toc and Halcyon. My husband was able to dive a few days of our trip, and really enjoyed it. I also snorkeled once, and it was nice to just walk down to the pier to get on my snorkeling boat.
Of course if you're visiting a Sandals resort, you know you will have some amazing dining there! We were able to try almost all of the restaurants at the Grande, and even tried the French restaurant, La Toc, at the Regency La Toc. We did not have a bad meal at this resort! Our favorite was definitely Gordon's on the Pier, where we had the best surf 'n turf we have ever eaten! The lobster just melts in your mouth! We also enjoyed the Indian restaurant, Bombay Club, and had some amazing sushi at Soy. This is a must-do for anyone that enjoys sushi! There are a few restaurants that require reservations at this resort, but we didn't have any problems finding availability.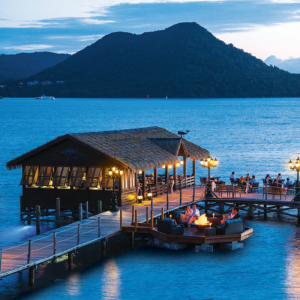 One of my favorite things about Sandals and Beaches resorts is that they never feel crowded. When we traveled, they were almost completely sold out, but the resort did not feel crowded at all! We were always able to get beach and pool chairs, and never had to wait more than a few minutes to get a table at any restaurant.
I highly encourage you to add Sandals Grande St. Lucian to your travel bucket list. I would love to help you plan a visit to this resort that offers everything you could want, and more!