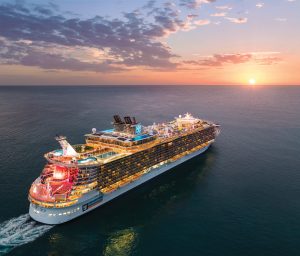 Our family recently returned from a weeklong voyage in the Allure of the Seas. It was relaxing, but not boring.  We came home refreshed!  What a great way to celebrate our anniversary, even if we did bring our two teens along.
Allure is one of Royal Caribbean's four Oasis-class ships, Royal Caribbean's largest class of ships.  While each ship is different, you can find many of the same facilities on each ship.  I was planning to tell you all about all 7 neighborhoods on the ship. I was going to tell you all the wonderful things there are to do in each one, but I realized that that was going to be a long article! Instead, I decided to focus on our top 5.
Rock climbing wall. My 13-year-old spent a good amount of time on the rock wall. It's way up there! The first time he reached the top on the easiest path, so he kept going back to try and accomplish the same feat on one of the harder areas.
Solarium. It's nice to get out and enjoy the sun on a sea day, but the pool decks can get crowded and loud. It was great to get away from the chaos and relax in the adults-only Solarium. This meant our kids couldn't come with us, but they were off doing their own thing, so it didn't matter!
On Air. While this karaoke lounge was small, it was a busy place. We found ourselves here every night for family karaoke. It was fun to watch kids and adults alike perform. We even got up on stage once…but only once.
Main dining room. We ate dinner almost every night in the main dining room. We chose My Time Dining, so we were able to eat when we wanted. There was usually a short line, but it moved fast, and the food was worth it. Since you can order more than one dish we tried a variety of foods we normally wouldn't eat. Amazingly my kids fell in love with escargot.  Who knew?
AquaTheater. While we didn't spend a lot of time here, it was amazing. Watching divers and dancers performon aloving ship was INCREDIBLE! I've never seen anything like it and won't again until my next journey on an Oasis-class ship.
Allure of the Seas will be going into dry-dock in the spring of 2020 for a complete refurbishment.  They will be adding new waterslides, restaurants, bars and much more!  I can't wait to see how much more amazing this ship will become.
Krista Robertson
Travel Consultant