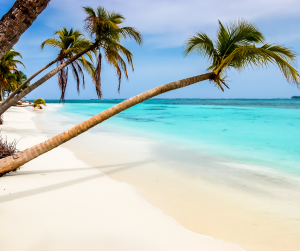 You may have seen reports about suspicious illness and death in the Dominican Republic right now and wondered if that country is safe.  Or you may remember reports from a few years ago about deaths in Mexico, or violence in Jamaica last year.  All of these reports may have you concerned about traveling to any Caribbean country right now, and that's ok.  But make sure that you are making an informed decision, not just based on the media reports.  Some of those reports are using scare tactics to get more exposure, and not necessarily sticking to the facts.
​​There have been reports of violence, illness and deaths in the Dominican Republic recently.  That is definitely a cause for concern.  But remember what just happened recently in Virginia Beach.  Or what happens every single day in most of our major cities like Chicago, Washington DC, or even here in Atlanta.  There is violence everywhere in the world, it's just not reported as widely as the Caribbean reports are being reported right now.
So should you go or not go??  That's honestly a decision only you can make.  As a travel advisor, I can give you facts and my opinion, but you have to make the choice yourself.  If you don't feel comfortable traveling to a certain destination, then don't go.  But I would also caution you not to live in a place of fear.  If you decide you still want to experience the beauty and luxury of the Caribbean, here are a few tips I always give my clients:
Always get travel insurance when traveling outside of the US.  Remember that travel insurance covers you for things like flight delays and hurricanes, but it also covers you in the case of illness or injury.  Most of the time, the insurance you have in the states is not valid outside of the US, so it's really important to spend a few extra dollars to make sure you are covered if you get hurt or ill.  ​​​It can be thousands of dollars for medical transport home, so it's definitely worth it to add travel insurance.
Be aware of your surroundings at all times.  Don't wander around your resort by yourself at night.  Don't drink so much that your judgement is seriously impaired.  Don't go into places at the resorts that are not meant for tourists.
Don't go outside of your resort unless you are with a group tour.  There are some destinations in the Caribbean that are safer than others, where you can take a walk to the local shopping areas, but for the most part stick with a guided tour.  All resorts offer tours that you can book to see more of the island that you are visiting, whether that's a visit to Dunn's River Falls in Jamaica, or Xcaret in Mexico, or even just a quick trip to shop for souvenirs.  Pay a few extra dollars to have that guide with you.  In addition to knowing these sites and making your trip a lot more interesting, they will also give you more security.
Don't drink the water in some destinations.  Everyone knows that the water in Mexico is not safe to drink, and that you should only use bottled water there.  But you may want to be cautious in other destinations as well.  It's not merely whether the water is safe to drink or not, it's a matter of it being different than you are used to.  Your stomach may be more sensitive to food and drinks that are different than you are used to.  So use caution there and be sure to bring some over-the-counter medication for upset stomach.
There have been reports of people getting sick after drinking from their minibars in the Dominican Republic.  No one knows the exact cause of the sickness but be sure to check to make sure that bottles are unopened and sealed before drinking.  And be sure to either use a glass to drink out of, or at the very least wash off the tops of the cans and bottles you are drinking out of.  (By the way, I give the same advice to my kids when drinking sodas here in the states!) You just never know what was on those cans and bottles before they were placed in your fridge.
Use caution when drinking alcoholic beverages, just like you would in any destination.  Make sure that alcohol won't interact badly with any prescription drugs you take.  Make sure that you aren't drinking to excess while out in the sun for long periods of time.  You can still have a good time while using common sense to be safe.
Check with the US State Department for guidance.  The US State Department publishes advisories for every destination you may be traveling to.  Click on the link below to see what the advisories are to your favorite destinations.  You can see that right now, the Dominican Republic is at a level 2, which has not changed since all of these reports have come out.  And that level 2 is the same as for travel to Germany and France, and many other destinations that you may consider safe.  Their site is:  https://travel.state.gov/content/travel/en/traveladvisories/traveladvisories.html/
​As I said earlier, you are the only one that can decide if you feel safe traveling to any destination, inside or outside of the US.  Your Wishes & Dreams Travel Consultant is here for you to give you the facts and help you make that decision.  Just don't base your decision solely on the media frenzy that is going on.  We want you to have an amazing vacation wherever you may go, and we're here to help!