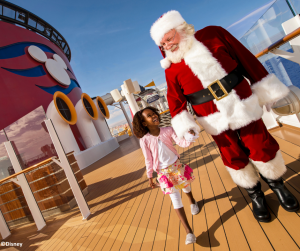 When you think about the holidays, particularly Thanksgiving and Christmas, what do you think of?  Is it the presents or the decorations, or just spending time with loved ones?  If you first think of spending time with your family during the holidays, consider a holiday cruise this year instead of the usual gifts!
Now this does depend a little bit on the ages of your kids.  It may be a little tougher to travel with babies, and younger kids may be worried that Santa won't be able to find them on a cruise ship.  Or they may be sad if there's not a Christmas tree in your stateroom.  But if your kids are a bit older, or especially if they are tweens or teens, a holiday cruise is a wonderful way to celebrate!
Think about all of the stress that you go through getting ready for the family to visit during the holidays.  Especially for us moms, this can turn into a frenzy of cleaning the house, buying gifts, grocery shopping for all of the meals you'll have to make, and trying to make everything "perfect".  Just imagine for a moment if your holiday preparations instead were choosing which beaches to visit, thinking about maybe doing something new like ziplining or snorkeling, and packing your shorts and bathing suit.  No cleaning the house, no cooking for the week, and no stress!  It sounds like heaven to me!
OK you're convinced that a holiday vacation is the perfect gift to give your family this year.  Now I really want you to consider a cruise for a few really great reasons.  A cruise is a perfect vacation for the entire family.  There is something for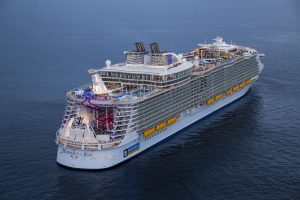 everyone to do, from the jazz club and coffee bar for the grandparents, the spa for mom, the casino for dad, and all of the activities in the kids and teen clubs for the kids!  Each night everyone can get their favorite entrée at dinner, and then even have two desserts!  At each port, there are excursions that you can all do as a family, or different groups can do different activities.  Or you can just relax on the beach while the kids play in the water.  Everyone gets to have the best time while enjoying time together on a cruise!
So if you think your kids can live without the toys that will be at the bottom of the toy box in a month, consider planning a cruise for the holidays. I promise that you won't regret it, and you may just have your best holiday ever!