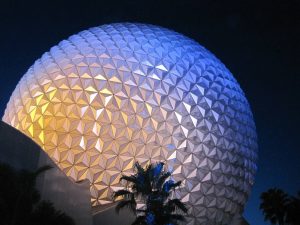 In our last article, I shared a lot of new things coming to some of your favorite Disney parks all over the world.  We're adding to that in this article with news about the Disney Cruise Line and Walt Disney World.
Disney Cruise Line
The first of three new ships will be completed in 2021! This ship will be named the Wish, and the stern character on this ship will be Rapunzel.  The Wish will set sail in January 2022.
There is also a new Disney port coming to the Bahamas! This new port will be called Eleuthera and will be located at a place called Lighthouse Point in the Bahamas.  Construction could begin in 2020 and be completed in late 2022 or 2023.
Walt Disney World
I've saved my favorite for last! And there's soooo much coming to Walt Disney World!  So exciting!!
A new updated Cirque du Soleil show will be coming to Disney Springs in March 2020 for previews and opening to the public in April 2020. This show will include new Imagineering and animation with Disney melodies.
Epcot is getting a major overhaul and update! First, Epcot will soon be divided into 4 neighborhoods

World Showcase
World Nature
World Discovery
World Celebration

World Celebration

Updated fountain and greenery.
Spaceship Earth is getting a huge update with a focus on storytelling. A  "story light" will guide you through each scene.

World Discovery

A new Guardians of the Galaxy attraction with reverse launch and including Guardians of the Galaxy cosmic rewind!
There is a new Mission Space restaurant that will be named Space 220, with amazing views! This new dining option will be coming winter 2019.
There will be a new play pavilion with Edna Mode style, coming in 2021.

World Nature

Awesome Planet is coming in 2020.
Journey of Water will be a Moana exploration trail.

World Showcase

China will be getting a new movie with a 360° digital format. It will be named Wonderous China.
Canada is also getting a new movie
France will be getting a Beauty and the Beast sing-along coming in January 2020, Ratatouille Adventure will be coming in a new area of the pavilion in summer 2020, and a new restaurant will be added in summer 2020.
The UK pavilion will have a new area that will allow you to be transported to Cherry Tree Lane from Mary Poppins. There will also be a new Mary Poppins attraction in this area.

Epcot will also be introducing a new nighttime show, to replace Illuminations. This will be the biggest nighttime spectacular in any Disney park!  This new show will be named HarmonioUS and will feature a new anthem for Epcot by Pinar Toprak.  This new show will be coming in summer 2020.
With all of these amazing updates, it's definitely time to plan your next visit to your favorite Disney park!  Which one will you choose first??