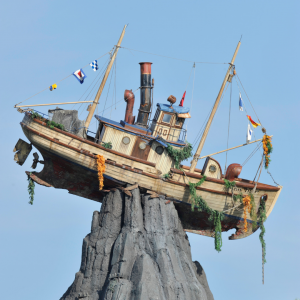 We all know that Florida can get HOT in the summer months, and there's no better way to cool off than at one of Disney's water parks.  Typhoon Lagoon and Blizzard Beach are water parks that are not to be missed!  There is so much to see and do at these water parks that I recommend planning a free day to visit (or two to visit each one!).
At Blizzard Beach there are three main areas with attractions to enjoy.  They have the green, purple and red slopes.  Each area has their own unique attractions for the family.  I love riding the chairlift, which gives you transportation to the top of Mt. Gushmore.  The green and purple slopes have the more thrilling attractions, like Summit Plummet and the Downhill Double Dipper.  These are a bit much for me, but my girls love them!  My favorite is Teamboat Springs, which is a family raft attraction.  The red slope area has Tike's Peak, which is an area just for the little ones.  So you don't have to worry about your littlest ones not having fun.  They'll have their own slides and fountain play area to keep them entertained for hours.!
I love both of the water parks, but I do prefer Typhoon Lagoon a little more.  Probably because Castaway Creek, Disney's version of the lazy river.  If you're looking for me, that's probably where I'll be!  But there are lots of attractions here for the more adventurous types too.  Try Keelhaul Falls or Humunga Kowabunga for more thrills!
The Typhoon Lagoon Surf Pool is amazing.  The waves rival some you will see on any ocean!  In fact, you might want to keep your youngest children at the edge of the pool.  You can very easily get knocked down by the 6-foot waves that come at you.  Definitely an attraction not to miss.  Typhoon Lagoon also has an area for smaller children, Ketchakiddee Creek.  This area has slides and raft rides just for those under 48".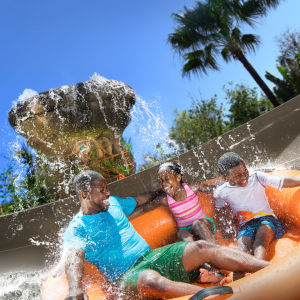 If you're thinking of trying out the water parks, then the best value is to add the park hopper plus option onto your park tickets.  Not only will you be able to visit more than one main theme park in a day, but you'll also receive entrance into any water park, a round of golf or mini-golf, and other options.  You get as many visits as you have into the theme parks.  So if you've got a 4-day base ticket and add the park hopper plus option, then you get 4 tickets to use at the above options.  And you can also visit a water park after a day at one of the theme parks without needing the park hopper option on your tickets!
So as much as there is to do at each of Walt Disney World's main four theme parks, don't forget to try out at least one of their water parks on your next visit.  It's definitely the best way to survive the summer heat!