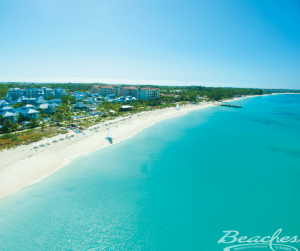 I have visited the Beaches Turks & Caicos resort on two previous business trips, but this was the first time the entire family visited. I have been so excited to take my family on this vacation, and it did not disappoint! I highly recommend any Beaches resort for your next family vacation, but this one is my favorite!
If you're not familiar with the Beaches brand of resorts, they are the same company as Sandals resorts. Sandals is for couples, and Beaches is for families. There are three Beaches resorts, one in the Turks & Caicos and two in Jamaica. The two in Jamaica are in Negril and Ocho Rios. The Turks & Caicos location is the largest of the three resorts.
It was a short, three hour flight directly from Atlanta to get to Providenciales. When we arrived, we got our luggage and headed outside of the airport to the Beaches stand. There we were signed in and had a short wait for the van to take us to the resort. The resort is fairly close to the airport. It was only about a fifteen minute drive.
There are four villages in this resort, and they all have a different theme and feel. The Caribbean Village is close to the beach. The French Village is furthest away from the beach, but fairly close to the water park. The French and Caribbean Villages offer some of the least expensive rooms options at the resort. The Italian Village is closest to the main pool, and offers some amazing family rooms. The last village is the Key West Village. This is the newest village at this resort. It was actually another resort, and Beaches bought it and renovated it. The Key West Village is the quietest village, and offers some of the largest rooms. We stayed at the Key West Village in a one bedroom concierge suite. This room offers a bedroom with a king bed, and the living area has a day bed with a trundle. Since we have three children, they brought in a roll-away bed for my daughter, which she said was very comfortable. I liked that no one had to share a bed on this trip.
I loved the Key West Village. We definitely took advantage of the larger room for the five of us, and it was definitely quieter than some of the other villages. But it is a little bit of a walk to the other end of the resort! We walked from our room to the beach party one night, and it took a few minutes! But I just thought of it as walking off the calories from the amazing food and drinks we were enjoying!
This resort offers twenty four different dining options! Yes 24!! We tried our best, but we couldn't visit all of them. My favorite was Neptune's and Schooners, which both offer amazing seafood! Both of these restaurants are right near the beach, so we got to enjoy the sunset as we were dining. Giussepe's had the best breakfast, but we also enjoyed Cafe de Paris for a quick coffee and pastry. And my daughter and I loved the crab mac 'n cheese at Mr. Mac's food truck for lunch by the water park! On our last night, we enjoyed the sushi at Soy so much that we were the last ones at the restaurant!!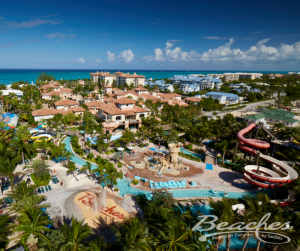 There is a really fun water park for people of all ages to enjoy. My husband loved the surf simulator, and said it was fairly easy to do. We all enjoyed the water slides, and there was hardly ever a long line to ride, which was nice. But my favorite was the lazy river…. I spent some time in my tube with a cocktail in my hand just relaxing.
The main pool for the resort is at the Italian Village, and that's where we spent most afternoons. There are also pools at the other villages, but the main pool is the largest. Even though we visited in early summer, it was not too hard to find a chair each day. And of course we all enjoyed the swim up bar there and at the pool at the Caribbean Village! If you go, search for a bartender named Bishop. He was so much fun, and always had a crowd at his bar! And there is even a swim up bar for the kids at the water park. They offered drinks like Roy Rogers, Fairy Princess and Frozen Ice especially for the kids.
Did you know that scuba diving is included in your Beaches vacation at no extra cost? If you are a certified diver, you can dive every day of your vacation! My husband took full advantage of that, and he said the diving was wonderful! He saw several sharks, turtles and tons of tropical fish. My teenage girls have always wanted to try scuba diving too, so they took the Discover Scuba class to try it out. This class includes time in the classroom and in the pool. After you complete that the first day, you are taken out on a shallow dive the next day. Two of my girls loved it, but the third one not as much… My oldest daughter loved it so much that she got her first level of PADI certification on our trip! She is now certified to dive up to 40 feet anywhere.
If you're not a scuba diver, then there are many other water sports to enjoy at Beaches resorts. My youngest daughter especially loved the kayaking! We all went on a Hobie Cat boat, which was a lot of fun. They also offer paddleboarding, windsurfing, snorkeling and more! Beaches offers snorkeling right off of the beach, or you can go out a bit on one of the snorkeling trips they offer each day. We all did that, and saw a large nurse shark, tons of fish and even a couple of squid! It was one of my favorite snorkeling trips ever!
There are so many things to enjoy at Beaches Turks & Caicos that I just can't fit them all in here. In the coming weeks, I will write some articles to give you more in-depth information. I already have articles planned on the dining, scuba diving, the Red Lane Spa (I had an amazing massage!!) and more! But in the meantime, let's start planning your next visit to Beaches Turks & Caicos!