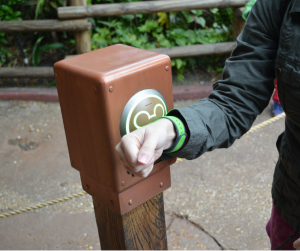 One of the best ways to avoid standing in long lines at Walt Disney World is to use the FastPass system. If you haven't been to Walt Disney World in a while, things have changed! Instead of running all over the parks to get your next FastPass, you can now preselect 3 attractions per day of your stay. I love this system, because it means that you don't have to get to the park super early to get into Toy Story Mania or Space Mountain like you used to.
For guests staying at a Disney resort, you can begin selecting your FastPasses 60 days before your trip. If you're not staying at a Disney resort, then you can begin selecting your FastPasses 30 days before you travel. But it's important to choose the right FastPasses for your family, or you could be waiting in long lines for the more popular attractions. There are honestly just some attractions that you don't need a FastPass for. Here is my Top Ten list of those attractions:
Dumbo in Magic Kingdom. This attraction has been updated, and now has two identical rides. One is for people with a FastPass, and one is the standby line. But when you enter the big top tent, there is so much to see and do! And if you are in the standby line, a cast member will check you in and give you a beeper to tell you when to get in line to ride.
Monster's Inc Laugh Floor in Magic Kingdom. This show can sometimes have a longer line than others, but your time will go by quickly! There are jokes displayed on the big TVs in line, and you can even text your own joke using your cell phone!
Mad Tea Party in Magic Kingdom. The lines for this ride aren't nearly as long as they were several years ago, so you don't need a FastPass for this one.
Pirates of the Caribbean in Magic Kingdom. This attraction does sometimes have a longer wait, but the entire line is inside, where it's nice and cool. And there are plenty of pirate artifacts to keep your attention off of the fact that you are waiting.
Mickey's Philharmagic in Magic Kingdom. I have never not gotten into the very next show, so you just don't need to waste a FastPass.
Living with the Land in Epcot. This ride rarely has long lines, so save your FastPasses for Mission SPACE or The Seas With Nemo & Friends.
Journey Into Imagination with Figment in Epcot. This ride is just not as popular as it once was, so there is rarely more than a 10 minute wait.
Muppet*Vision 3D in Hollywood Studios. Again, this rarely has long lines at all, so save your FastPasses for Star Tours or Tower of Terror, which almost always have a wait.
Festival of the Lion King in Animal Kingdom. In my opinion, it's not necessary to use a FastPass on any shows in Walt Disney World. It is very rare that you won't get into the very next show.
Finding Nemo-The Musical in Animal Kingdom. This is another show that you don't want to waste a FastPass on. There are many other attractions in this park that will have longer lines.
Hopefully this will help you minimize your time waiting in line on your next Walt Disney World vacation!